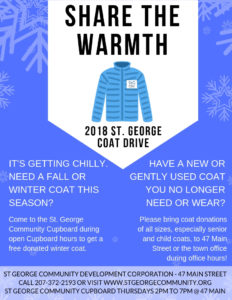 Last year we participated in the state-wide senior coat drive.  It was awesome.  We collected about 22 coats that we then turned in to the Rockland Goodwill.  With each donated coat, St. George residents earned a voucher for a free coat from the Goodwill store and Linda Bean donated $5 towards the senior heating assistance program.  St. George was one of the largest contributors to the coat drive.
Going into 2018, we wanted to keep up the great work with the Senior Coat Drive, but we also wanted to expand the coat drive to serve a greater portion of our community.  Hence the launch of 2018 Share the Warmth St. George Coat Drive.  Our hope is that community members will donate new and gently used coats to the office at 47 Main Street (or the town office) and we'll then have those coats on display and available to anyone in the community.  Residents can come to the Community Cupboard (also located at 47 Main Street) on Thursdays from 2 pm to 7 pm and pick out a coat to take home and stay warm this winter.
We hope to have coats donated for all ages and in all sizes.  Watch for updates to learn how it goes!