The Friends of St. George and the St. George Journal dissolved in June 2021. 
The Community Development Corporation retains this page as an archive of their successes in the St. George Community.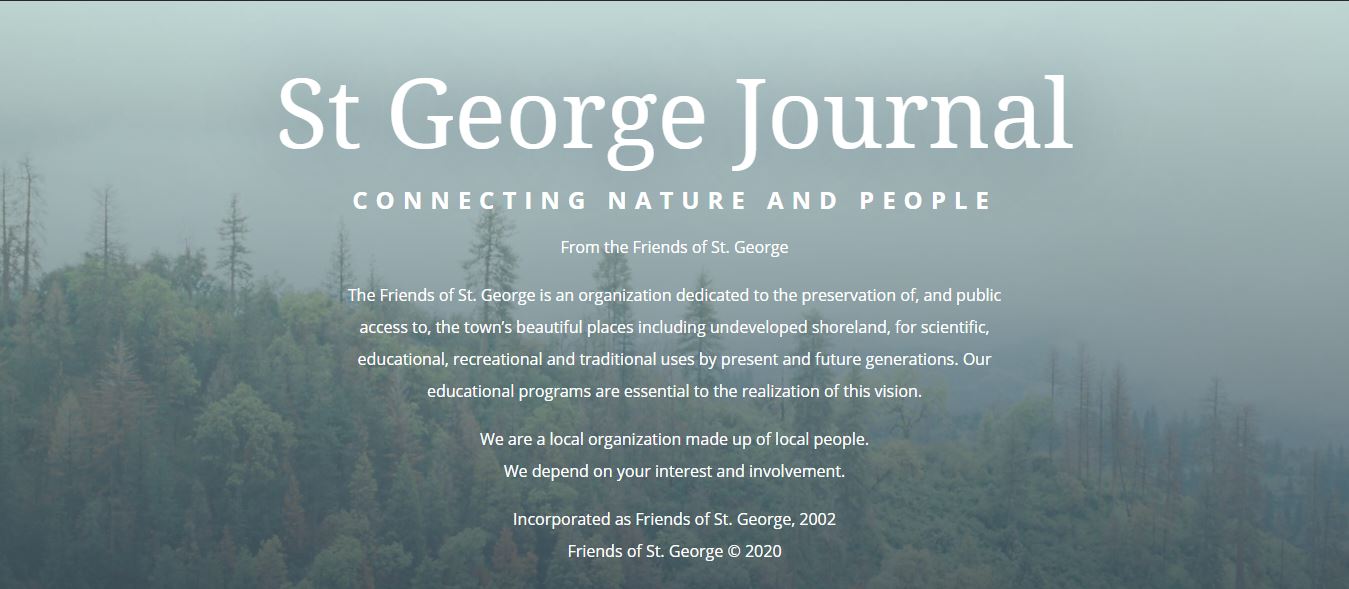 About The Friends of St. George
The Friends of St. George was a nonprofit organization dedicated to the preservation of, and public access to, the town's beautiful places including undeveloped shore land. The FOSG supports scientific, educational, recreational, and traditional uses by present and future generations. Their programs were essential to the realization of this vision.
As with many community organizations, the formation of the FOSG followed the law of unintended consequences. The 2002 closing to the public of a local beach became the opening of the community discussion on the need to conserve special places in St. George. The Friends of St. George was formed. Through the continuing generosity of many supporters, the Friends have initiated educational programs and projects. Their final work included support for public access to shorefront and working waterfront, presentation of winter and summer educational programs, and collaboration with other organizations, such as the town's Conservation Commission. 
In May 2009, the Friends of St. George unveiled the Neighborhood Access Paths (NAP). The concept for those local paths was patterned after the Georges Highland Path of the Georges River Land Trust: landowners grant public access voluntarily and the property itself remains private. Unlike the GHP which provides some parking, the Neighborhood Access Paths were for those neighborhood people who are close enough to walk in, unless the owner specifies otherwise.  
In 2004, geology educational events resulted in the production of a video, "No Stone Left Unturned," by director Don Moore (featured below) in which Professor Elizabeth Wilson of the U. of Maine describes the ancient formations of Mosquito Head and the Marshall Point Lighthouse. Grants and donations enabled the video to be distributed free to libraries and schools throughout Knox County. While sales have slowed since the initial spurt, they still garner enough revenue to make the video project self-supporting.
The Friends of St. George is a local organization. The FOSG depends on the interest and involvement of local people.
No Stone Left Unturned. Port Clyde Maine