Mission
The St. George Community Development Corporation's mission is to help make the town of St. George and its villages livable for all residents.
We lead and fund innovative projects that enhance the community's resiliency by supporting community and economic development, developing workforce housing, expanding educational opportunities, and increasing access to healthcare.
Office Hours
Monday, Tuesday 9 AM – 2 PM
Wednesday 9 AM – 12 PM
Thursday 2 PM – 7 PM
Those hours don't work for you? Call Alane to make an appointment:  207-372-2193
Contact
St. George Community Development Corporation
47 Main St.
PO Box 160
Tenants Harbor, ME 04860
For more information, contact info@stgeorgecommunity.org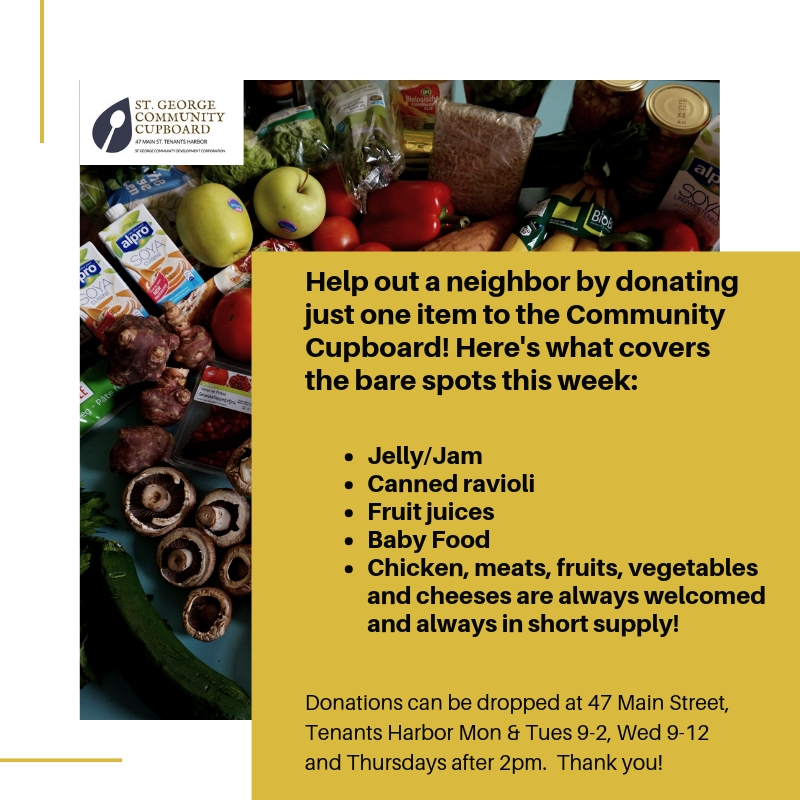 Thank you to all of the community members, both near and far, who are consistently supporting our Community Cupboard. Your donations are hugely appreciated. We also have started an Amazon wishlist for some of the items we clear out of regularly. You can find it here: http://a.co/9ag37Mu. Ship to 47 Main Street, Tenants Harbor, ME 04860. module Advanced settings.