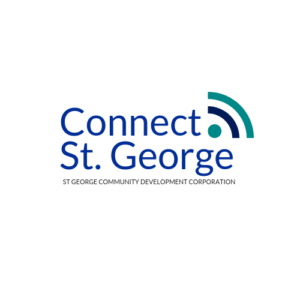 Connect St George is a group of concerned residents exploring the community's needs for high-speed reliable internet. Our work is a continuation of the efforts begun by the Ad-Hoc Broadband committee, initiated by the Select Board nearly four years ago.   Last year, we re-formed under the Community Development Corporation. Together we are working to understand which residents and which parts of St George have slow or unreliable internet so we can propose solutions to bring high-speed internet to those underserved people.
We've learned that while St George is served by multiple Internet Service Providers, Charter Communications – known to many as Spectrum or Time Warner – is the only provider capable of delivering high-speed internet service.  Charter's service is generally limited to residences along main roads. That leaves a large percentage of our residents without access to high-speed reliable internet.
Let's talk about what it means to have slow or unreliable internet.  You can't stream a movie.  You can't reliably shop online.  You can't connect with family or friends on social networks.  You can't connect with family, doctors or colleagues by video chat.  You can't reliably send or receive emails with images, videos or other documents.  You can't do your homework; whether you're a kid in the St George school, whether you're getting your GED, or whether you're trying to attend courses remotely.  If you are a business owner, you can't reliably connect to colleagues or buyers.  If you suffer from an addiction, you can't connect with online counseling groups or services.  These examples present real challenges for our community. In other communities, we're seeing high-speed reliable internet becoming a top issue that drives state initiatives. As concerned residents, we want to be part of that conversation.
About 2 months ago we were put in touch with Kendra Jo Grindle from the Island Institute. The biggest take away from that meeting was this: before we try to fix the slow internet, we need to understand how residents perceive the problem. Kendra Jo suggested we schedule community meetings to find out. She also suggested that we engage as many community groups as possible.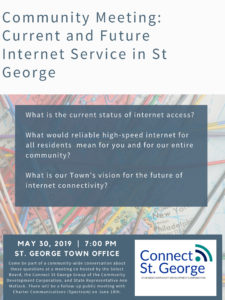 Thursday, May 30th,  7 pm St. George Town Office:  Community Meeting: Current and Future Internet Service in St George
What is the current status of internet access in St George? What would reliable high-speed internet for all residents mean for you and for our entire community? What is our Town's vision for the future of internet connectivity?
Come be part of a community-wide conversation about these questions at a meeting co-hosted by the Select Board, the Connect St George Group of the Community Development Corporation, and State Representative Ann Matlack. 
June 18. This will be a conversation between the community and Charter Communications, moderated by Connect St George and Kendra Jo. We'll engage with Charter to see if they can help us fill in some of the unserved or underserved regions. Presenting Charter Communications with concrete requests, and prioritizing them based on the needs of the community, we hope to work together to reach some actionable solutions.
It's our understanding that the Town is beginning negotiations for a new Franchise Agreement with Charter Communications in 2020. The information we gather from the meetings could help the Select Board with those negotiations.  St George is a great place to live. And, if having access to high speed, reliable internet can help people live here for longer, be healthier, have access to more education, and improve and grow their businesses, it seems like the right place to put our energy.