Energy Efficiency
In order to preserve the future of this earth more effective energy consumption and usage by its inhabitants is necessary. In looking through the contents of this page I hope you realize the importance of energy efficiency and learn how to help save the world and your energy costs through your actions and determination.
What is energy efficiency?
Energy efficiency is the act of using less energy while completing the same task.
How can being energy inefficient cost you?
Energy inefficiency means wasted energy, wasted energy means wasted electricity. Wasted electricity means wasted money that could be better used on other ventures.
How can being energy inefficient harm the environment?
Energy wasted leads to excessive carbon dioxide emissions. Excessive carbon emissions leads to more climate change.
Behaviors that Promote Energy Efficiency:
Click here to return to the table of contents
Turn off and unplug excessive electronics
Turn off lights when leaving a room
Turn off faucet when brushing teeth

Take shorter showers (in a British study (Link Here) it was found that less energy is used when taking a hot shower for 8 minutes or less, anything over 8 minutes a bath would be more energy efficient) 

Use energy efficient cooking means (Microwaves where possible, ovens where preferable)

Use more efficient transportation, walk, bike, use the bus, or carpool to events
Recycle wherever the opportunity arises and use appropriate waste as compostable materials
Grow your own food (also helps using composting)
Avoid one time use plastics (plastic bags) and if you are using them try to find innovative ways to reuse these plastics
Weatherization Information
Weatherization is the action of interior rennovation in order to avoid excessive heat expendatures and cold air leaking in. The chapter below helps guide home owners on simple and more complex actions that can help retain heat within the home. Below is an introductory image of numerous ways heat can leave the household (represented in orange arrows) and how cold air can leak into a household (represented by blue arrows).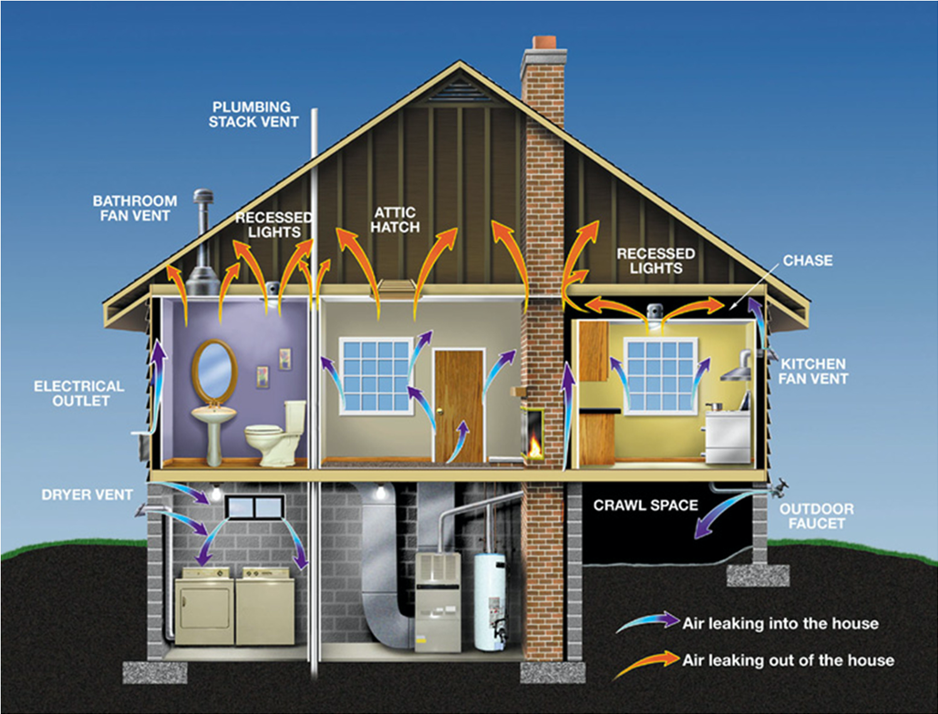 11 Do it yourself items around your house to help reduce energy costs
If you are interested in ways you can save money around your house the following slides describes simple ways to save money around your house.
Window Insulation
For window insulation there are many do it yourself kits you can buy at local harware stores, but these are only useful for one season. If you want window inserts that last an estimated 5-10 years WindowDressers window inserts can be revmoved at the end of a season. You can also caulk the outside edges of the window frame to prevent drafty windows.  
Regularly cleaning your HVAC filter on your heating system will maintain an unobstruted flow of heated air.
Attic Hatch Roof Insulation
Using a board of polyfoam you can insulate your attic hatch in order to avoid excess heat loss.
Outlet Insulation
Having a quarter inch gap between the wall and your outlet equates to a 4 inch hole in your ceiling in terms of heat loss. Hence you can get outlet insulators from any general hardware stores to plug that heat loss gap. 
Door insulation
Insulation for doors (door sweeps and v-strips) can be applied in order to plug leaks regarding gaps underneath or on the side of a door.
Plugging Leaky Hot Air Vents
In houses using forced hot air make sure all of the joints are sealed in order for no excess heat loss. Sealent can be found at general hardware stores.
Plugging Leaks From the Basement
Because a good portion of the cold air that enters a building enters in the basement, it is important to plug gaps between your basement and the upper floors. This may include clovering gaps  
Put Rugs on Your Stone/Concrete Floors!
Being that a foot of concrete has the same insulation value as a single pane of glass, adding rugs and carpeting can increase the insulation value of other concrete and stone/tial floors. 
Insulate Your Fireplace
Your fireplace can be a major source of heat while in use, but also a major source of heat loss when not in use.  If you are planning on not using it during the winter then you can fill a bag with paper (or a more durable substance) and plug your chimney to avoid excess heat loss. Make sure to take it out before you use it again!
Clear Obstacles From South Facing Windows
As the sun is rotates nearest to the equator, Maine is in the northern hemisphere, hence in order to absorb the most natural sunlight retract the blinds & open all the curtains from all south facing windows during daytime. As well as closing the blinds and curtains during nighttime to retain heat. 
Dryer balls help dry clothes in the dryer faster via allowing for heat to more efficiently reach wet clothes, saving time and money! Can be scented or remain scent nuetral.
Other useful tips:
Move obstacles from vents (especially those that expunge hot air) as those objects can absorb the heat meant to maintain room temperature.
Tile floors and concrete floors are less insulated than carpeted floors, in order to increase the insulation value (and thus store more heat) put rugs on tile and concrete floors.
Heavy duty curtains are another way to help block cold air leakage into the house.
Click here to return to the table of contents