Operating Hours:  Thursdays 2 pm- 7 pm.  If you need additional assistance, please call 207-372-2193.
Volunteers:  We are always looking for new volunteers.  Please contact communitycupboard@stgeorgecommunity.org
The St. George Community Development Corp. is excited to announce the creation of a food pantry for residents of the peninsula. Called the St. George Community Cupboard, it will be located at 47 Main Street, in a room adjacent to the CDC's office. 
After only 3 months in operation, the Community Cupboard is now serving over 20 St. George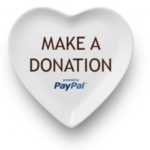 families with more than half of those families visiting the pantry weekly.  We couldn't be happier with this growth.  Our shelves remain stocked thanks to the many donations from community members.
The Community Cupboard is run by local volunteers and is open for clients each week on Thursdays, except for major holidays and snow storms. In addition to food, the pantry carries some hygiene products. We are hoping to establish some community gardens next spring in which folks can grow food for themselves or for the pantry. If you are interested in becoming a client, in volunteering for the Cupboard, in becoming a community gardener, or in donating non-perishable goods, please stop by the Town Office, or the CDC office, or call us at 372-2193 for more information.